Campaign updates

Dear ones,
Excuse my reasoned absence, I didn't feel good at all and I'm still recovering as much as I can and as much as I can. I would like to inform you that I was discharged on Monday, but my condition was not very good, so I could not sit on my phone, nor with my family I could not talk. Yesterday I went to analyzes, serums and infusions, tomorrow I will go again for other analyzes, blood transfusions, infusions, platelets, etc. This process apparently takes 2 months, doctors say
Thank you for all your messages and thoughts!
I have moments when I can't even hold the phone in my hand, but I fight, I go through this process and only God and the Universe know what plans they have for me.
I thank the family for the support, Marilena who is with me, as well as you for all the support you show.
Respect!
Take care of your health!
I love you!
Alexandra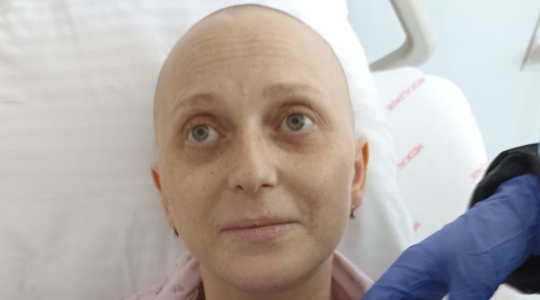 Big day for Alexandra, today she will be discharged! She received the prescription and instructions to follow after the transplant. There follows a period of 3 months of monitoring in which he will not be able to leave for Romania. Every week you will have to return to the analyzes.
He can't wait for his children to come, to see them!

Save a Heart Association paid today the amount of 4000 EURO according to the attached payment order.
Our fight continues!
Thank!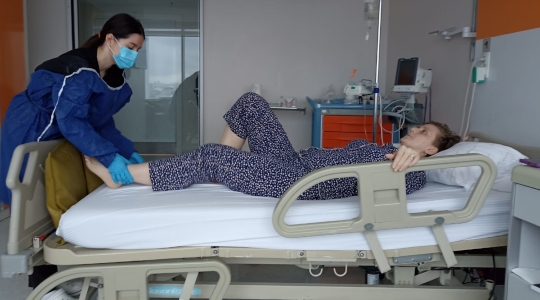 Today the doctor came to give me lymphatic drainage massage.
The right breast is inflamed and red, one can only walk to it through massage and exercises, since we are waiting for the cells to reach 0, the same with the right arm.
The liver is kept under observation, at this time the analyzes are good. Today is the 3rd day since I started making vaccines in my left arm for the growth of new cells. I am weakened, I have non-stop infusions with various medications. The doctor said that everything is going normally so far.
I am optimistic and I fight as much as I can. To protect the liver and not only, I endure pain and do not take painkillers.

The Save a Heart Association paid today the amount of 10000 EURO according to the attached payment order.
Our fight continues!
Thank!

Alexandra performed the stem cell transplant and we all hope that Alexandra will get well and return home to her little children.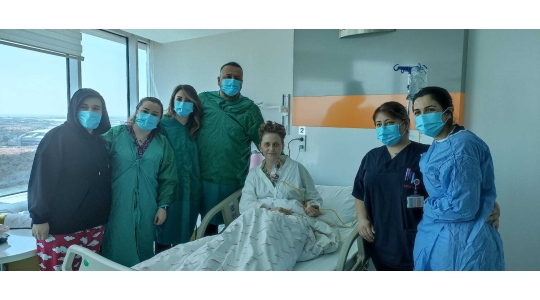 Today at Alexandra was visiting the Deputy Director of the Medical Park Bahcelievler Who was extremely impressed with her story. Very rare are these cases. Get rid of breast CANCER and then be diagnosed with Leukemia.
The visit of the Director was carried out under the strictest hygiene conditions.
Alexandra was extremely excited about this visit.
I wished him a lot of health in the future and to get through the effects of chemotherapy and transplantation as easily as possible.

My dear ones, I come back with very good news!
Found a compatible donor for transplantation, God sent me a saving angel. From Monday I will be hospitalized again and stay there for 40 days. From Tuesday I will start chemotherapy procedures, through which all my cells will be brought to 0. When this stage is completed, the transplant will be done. It all just depends on my body. It can take (until the transplant) two weeks or even a month, it is possible to have a new intervention, to mount a new catheter in my neck where the transplant will be done.
The next period will be an extremely difficult one, I will be completely isolated and bedridden. After the transplant, I will remain for a long time in the hospital, between 90 and 120 days, then for a year I will constantly need regular check-ups, medication, analyzes, transport, accommodation and everything else that is needed, costs that are not included.
I don't have all the money for the transplant yet, but the hospital has allowed me to pay now the amount I have, then until discharge to pay the difference. Basically, I have a maximum of two months to raise over €40,000. And after the transplant there will be some huge additional costs, but I am confident that I will succeed!
Thank you from the bottom of my heart and I have all the gratitude for all the help you have given me!
Campaign started on 11.05.2023
Name: Harapu
First name: Alexandra
Age: 37 years
Required amount: 86.500€
Diagnosis: Acute myeloid leukemia
The treatment will be carried out at Medical Park Hospital, Turkey
Alexandra's story
Perhaps the biggest attack on femininity is to lose both of your breasts, especially if you are young. It's hard for me to imagine a more intense and profound suffering than the one Alexandra Harapu must have felt when, in December 2021, the doctors told her that she had breast cancer and in order to survive she would have to endure a bilateral mastectomy. Time passed, as was chemotherapy, her breasts were rebuilt, but the nightmare was not over. On the contrary, the miserable disease has returned to other parts of the body...
In February of this year, Alexandra was diagnosed with acute myeloid leukemia, after also experiencing tumors on her liver.
My children, two angels of 5 and 11 years old, have been seeing me for more than a year and a half going through torments, pains and chemotherapies. Now I am undergoing treatment in Turkey and she always asks me if I will return home, says the young mother.
It was only despair that prompted her to write to us and ask for our help, for her only real chance at life lies in a stem cell transplant that costs a lot. That's €86,500, which also includes checks, medications and other expenses needed for recovery.
Unfortunately I was not able to get hired during all this time because I was going to treatments and checkups every week. With tears in my eyes, please offer me your help. This is my chance!
The children are waiting for their beloved mother at home, but she cannot return healthy unless she can be treated properly and rid of cancer. For this he urgently needs the help of all of us. Through our donations we can provide her with the transplant and the subsequent medication on which her life depends.
Any amount transferred to the accounts of the "Save a Heart" Association can save Alexandra. Donate andi you for this mother who only wants to return to her little children!
For donations:
Entity name: Association "SAVE A HEART"
Tax registration code: 31015982
RON account: RO05BTRL00701205W82870XX
EUR account: RO28BTRLEURCRT00W8287001
USD account: RO68BTRLUSDCRT00W8287001
SWIFT code: BTRLRO22
BIC code: BTRL
Banca Transilvania Botoşani
Please specify in the bank transfer, at the payment details, the name of Alexandra Harapu!